Home
G. J. Vining,
An Account of His Life
Chapter One
Chapter Two
Chapter Three
Chapter Four
Chapter Five
Chapter Six
Chapter Seven
Chapter Eight
Chapter Nine
Chapter Ten
Chapter Eleven
Chapter Twelve
Notes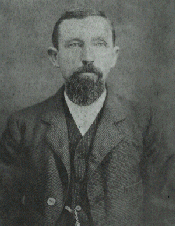 George Joseph Vining was born in Bristol, England on March 25, 1836. He immigrated to Arkansas in 1843 and was soon left orphaned with his one brother and two sisters. He fought for the Confederacy in the American Civil War as part of the 9th Arkansas Infantry. He married Cornelia Aldridge November 1, 1862 and by her had eight children. After Cornelia's death in 1901, he married Amelia R. Schwind with whom he lived until his death on March 15, 1915. The memoir was written in 1908 and was addressed to his children.



Description of Original Memoir:
I have never seen the original document as written by G. J. Vining, nor have I been able to find anyone who has ever seen it. George L. Alexander, borrowed a handwritten draft from his cousin Rutledge Vining and had a typist named Charlotte Van Frank transcribe it. Her transcription, single-paced in 10 pt type, contains few paragraphs breaks and is hard on the eyes. Some years ago I retranscribed it into a double-spaced 12 pt type document, putting in paragraph breaks as seemed appropriate. This has formed the core document for this latest version presented here.
Mr. Paul Vining, the author's grandson, has since provided me with a photocopy of a booklet, entitled Come Walk With Me … One Man's Story, A Journey Through Jefferson County, Arkansas in the Mid-Nineteenth Century, by George J. Vining. Based seemingly on the same set of original notes, this booklet was published by the Pine Bluff Civil War Round Table, edited and arranged by Phillip F. Fenters, (no date). I have included text from this booklet wherever it differed significantly from the documents I had or to fill in those gaps left by the original transcriber.
Excerpts from the published booklet used to fill in text omissions appear in italics. Those excerpts that differ from the core document are noted as --italics-- after the core document's version of the word or phrase in question. The original Van Frank transcript is not divided into chapters while the booklet version is -- though the numbering of those chapters is not consistent. I have made some chapter divisions of my own, largely following the booklet's model, but by no means confined to it.
A note of caution
Mr. Vining's terminology will offend some, but the transcript is faithful to the original transcript, including the use of biased language.