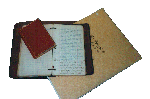 Dr. Robert Newland was a physician who became ill.
Nancy Newland, his wife, had often served as his nurse. On this occasion she failed to read the labels carefully and mistook strychnine for quinine -- or at least so found the inquest when it handed down a verdict of accidental poisoning.
There is no doubt that she loved her husband, for she determined that they should be buried foot to foot so as to face one another when called by God to rise in glory.


---
Albert L. Peel died at the Battle of Spotsylvania Court House on May 12, 1864:
Adjutant Peel had thrown aside his sword and with a very fine rifle, captured from the enemy, he was shooting as rapidly as he could reload. He fell, shot through the head at the foot of an oak tree which had been cut down by deadly missiles. His body was found by his brother, Dr. R. H. Peel, who was then surgeon of the regiment, and it was buried after dark. The stump of this oak tree at the root of which Adjutant Peel fell measured at the time Twenty-two inches in diameter, and is now among the war relics in the museum at Washington City. We buried Adjutant Peel's body beside his colonel, the gallant T. J. Hardin, who was also killed in the battle.
excerpt from Confederate Veteran, Volume 10, Page 367: "THE LAST ROLL"
[from Jack Durham's webpage]


---
George J. Vining on his deathbed March 15, 1915
"Not while the Bible backs me up
will I take medicine, Dr. Lowe."
His widow Amelia had these words cross-stitched into a sampler and hung upon the wall.


---
George L. Alexander had suffered from heart disease for about thirty years.
Yet on July 10, 1970 nothing seemed out of the ordinary. He had spent the day as usual. He picked the first two gardenias as he did every year for Gladys and placed them in a glass of water on his desk. He paid all the bills. When he had addressed and sealed all the envelopes, lining them up neatly on his desk, he stood up. He was dead before he hit the floor.

The most unusual part of his passing was the phone call that evening. The phone -- as it always did in a house with three teens -- had rung incessantly all evening. Then there was one more call, a little later than was usual, but not terribly late. Mother reached for the receiver, and as her hand touched it, she said, "Oh, I know what this is. Daddy's gone." She picked it up and said, "Yes, Mother, I know. Yes, I'll be there tomorrow. Is there anything you need? Alright then. Till tomorrow."

I remember just staring at her after that call, wondering how she knew.
---
Gladys McCullough suffered a stroke on a Sunday in late April, 1984.
She was supposed to go with friends to church and they found her lying on the floor. By the time her children reached Little Rock, she was hooked up to all the life supporting equipment medical technology could offer. The prognosis was poor, they were told. Gladys would never regain consciousness, but "fortunately" the hospital could sustain her life functions nearly indefinitely. The twins decided to take their mother home. The hospital objected, saying that such a move would surely cause death. Yes, well, that was the idea. God had called her home and the wonders of medical science had interfered with her answering the call. Finally arrangements were made and the twins took their mother home to wait for the end.

They sang to her and recounted old stories and told her that it was alright to go, that they were fine, the grandchildren and great-grandchildren were fine. On Saturday May 5, Gladys slipped away.
---
William Walter Phelps, III about to take the dance floor with a bridesmaid
"C'mon, Susie, we're loose!"
The ebullient Walter's heart couldn't take the strain and he died of a heart attack.