Home
Claudia Phelps Diary
1912
October
November
December
1913
May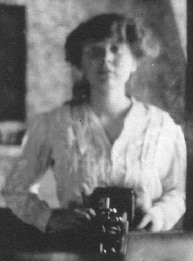 Claudia Lea Phelps was born in Teaneck, NJ on June 29, 1894, the second child of Sheffield Phelps and Claudia Wright Lea. An avid sportswoman and gardener, she was well-known for her work in breeding West Highland terriers and in creating new strains of camellias.
The longest lived member of her family, Claudia died on September 14, 1984 in Aiken, SC and is buried beside her sister in the churchyard of St. Thaddeus Episcopal Church.
Description of Original Diary:
The diary measures 3" by 4.5", commercially produced with gold edged pages of lined paper bound in red leather. Claudia was 18 when she wrote this diary. The diary begins in the middle of a sentence and may be a continuation of an earlier diary, now lost. The handwriting is uneven and frequently hard to read. The author's spelling and grammar are good, but she frequently fails to cross the letter "t" and there are several pages marred by ink blots. You may view a sample page.
Transcription Notes:
I have tried wherever possible to keep the author's format, including superscript additions and strike-outs. Items in [italics] are my own annotations, including the [?] whenever I was uncertain of the text. Because the author usually wrote several days' entries at one time and in one long passage, I have added paragraph breaks to render the text more readable.