In Their Own Words:
Family Museum
---
New Jersey National Guard Certificate
For Sheffield Phelps, 1896
This document was one of several received after the death of Lorinda Anna Lendt Wilds in 2006. All have been scanned and transcribed. This document remains in the care of the author.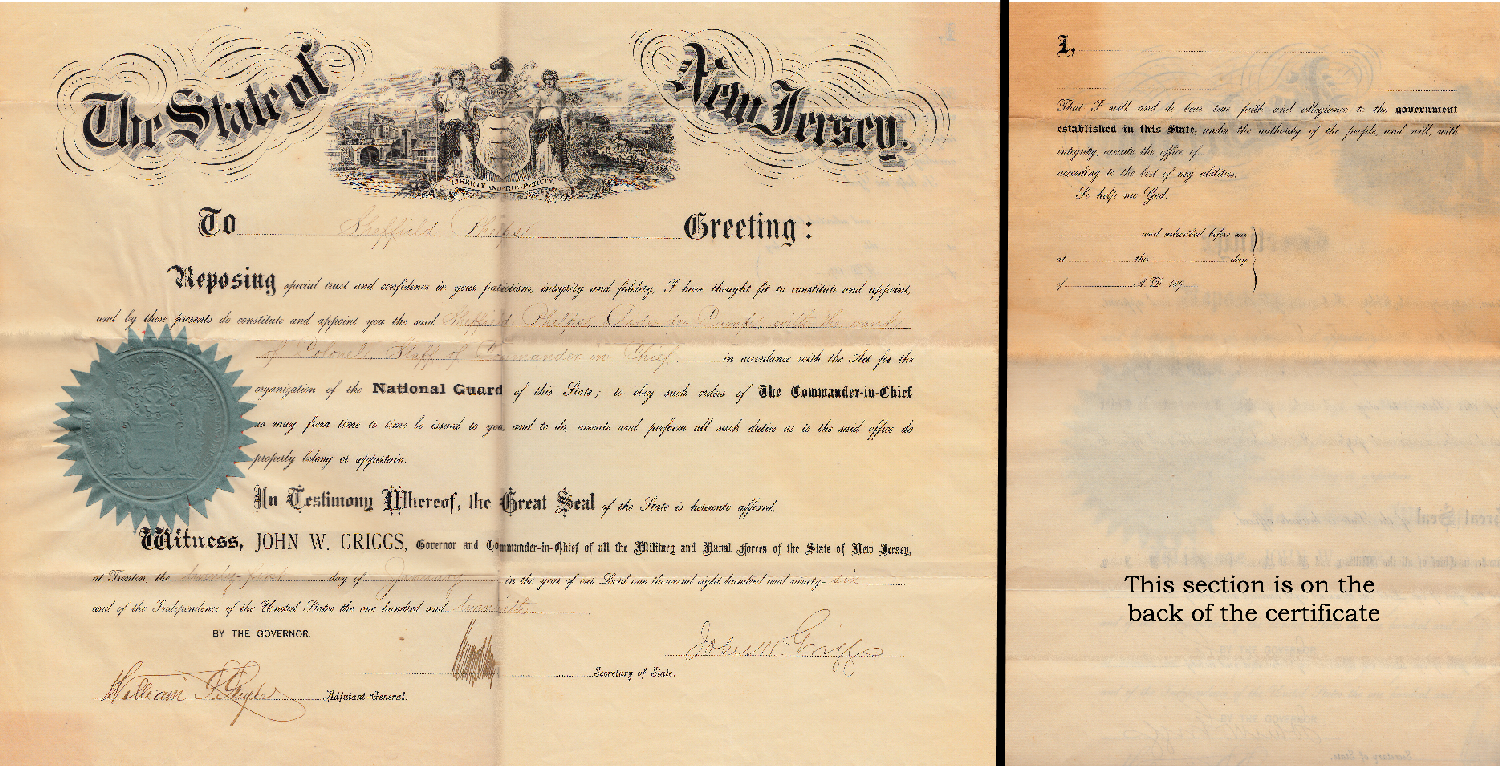 The State of New Jersey to Sheffield Phelps Greeting:

Reposing special trust and confidence in your patriotism, integrity and fidelity, I have thought fit to constitute and appoint, and by these presents do constitute and appoint you the said Sheffield Phelps Aide de Campe with the rank of Colonel, Staff Commander in Chief in accordance with the Act for the organization of the National Guard of the State; to obey such orders of The Commander-in-Chief as may from time to time be issued to you, and to do, execute and perform all such duties as to the said office do properly belong or appertain.

In Testimony Whereof, the Great Seal of the State is hereunto affixed.

Witness, JOHN W. GRIGGS, Governor and Commander-In-Chief of the Military and Naval forces for the State of New Jersey, of Trenton, the twenty first day of January in the year of Our Lord one thousand eight hundred and ninety-six and of the Independence of the United States the one hundred and twentieth.


BY THE GOVERNOR

John W. Griggs





_____________________________________ Secretary of State.



William S. Styles Adjutant-General.



---
Home
Questions and comments to Webmouse Cyberspace Publications

Copyright © 2011 Ellen Wilds, all rights reserved. Redistribution and/or reuse terms of license.