Moving of Phelps House Sought
Case Suggests Reconstruction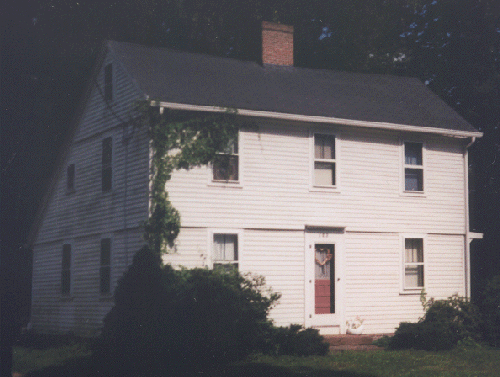 291-YEAR-OLD house built by William Phelps has been proposed to be dismantled and rebuilt on new site. Windsor Historical Society has received the suggestion.

[Rather the use the photocopy of the original Times Photo, I have here substituted my own photograph. In there original there is no shrubbery present.]
Albro Case, who has been successful in restoring several old houses, has made a suggestion to the Windsor Historical Society in reference to the house at 122 East St., which was built in 1670 by William Phelps.
Mr. Case is currently restoring the so-called Garvan homestead at 256 Palisado Ave., which was built in 1767 by Elijah Phelps.
The house on East St. is owned by the town and is one of the few "salt box" houses left in Windsor.
Mr. Case's suggestion to the historical society is to dismantle the house stick by stick and rebuild on Palisado Ave., in the rear of the Fyler Homestead on Palisado Ave., instead of building a modern building as now contemplated with fund from the bequest in the will of Leland P. Wilson.
MR. CASE SAYS that an ell such as was common to houses like the one on East St. could be built of fire resistant construction and used not only as a meeting place for the association, but for a display room of historical objects.
The society is now considering plans for a two-story brick which would be connected to the Fyler House by a breezeway.
The Fyler house stands at the south end of Palisado Green and has long been owned by the historical society for its shrine. Mr. Case points out that the East St. house could be used for a home for the caretaker of the society's properties.
The East St. house has been the object of study by students of architecture at Yale and other schools and colleges.
Mr. Case recently tore down the building next south which was also owned by the town which was built in 1730.
[Article from May 31, 1961 -- please note that this plan was not put into effect. The house still stands on its original site. It was donated to the town by H. Sidney Hayden in 1887 and was used as the Town Poor Farm (for indigent residents) until the 1930s. It now serves as rental property.]